Learn to ride on a Harley-Davidson® and get licensed!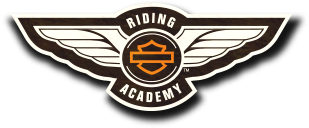 Welcome to Pacific Motorcycle Training, the top school to learn how to ride a motorcycle safely in the Livermore area. Come and learn everything you need to know to ride and control your motorcycle safely. Whether you are interested in learning the basics of riding a motorcycle—and getting your license endorsement—or simply improving your motorcycle skills to be safer on the road, come with us and we will provide you with the best teaching you can get in the Bay Area. We are part of the California Motorcyclist Safety Program and all of our instructors are certified to teach the Total Control Riding Clinics.
Starting August 2019, we are partnering with Livermore Harley-Davidson® Riding Academy to provide an exceptional and memorable learning experience for our students in Livermore.
---
Basic riding course schedule
GROUP A (Rides in the morning)
Classroom, Session 1 (currently held online)
Thursday 6:00 pm - 9:30 pm

Practice Range, Session 1
Saturday 7:00 am - 11:45 am

Classroom, Session 2 (currently held online)
Saturday 6:00 pm - 8:30 pm

Practice Range, Session 2
Sunday 7:00 am - 11:45 am
GROUP B (Rides in the afternoon)
Classroom, Session 1 (currently held online)
Thursday 6:00 pm - 9:30 pm

Practice Range, Session 1
Saturday 12:15 pm - 5:00 pm

Classroom, Session 2 (currently held online)
Saturday 6:00 pm - 8:30 pm

Practice Range, Session 2
Sunday 12:15 pm - 5:00 pm
---