Learn to ride on a Harley-Davidson® and get licensed!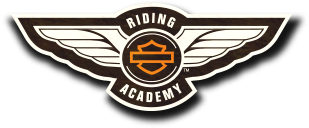 Welcome to Pacific Motorcycle Training, the top school to learn how to ride a motorcycle safely in the East Bay area. During our classes, you will learn everything you need to know to ride and control your motorcycle safely. Whether you are interested in learning the basics of riding a motorcycle—and getting your license endorsement—or simply improving your motorcycle skills to be safer on the road, come with us and we will provide you with the best classes you can get in the East Bay area. We are part of the California Motorcyclist Safety Program and all of our instructors are certified to teach the Total Control riding courses.
We welcome all Livermore residents as well as future riders from neighboring towns such as Tracy, Dublin, San Ramon, Danville, Fremont, Hayward and Milpitas. Come learn how to ride a motorcycle and have fun with us!
Starting August 2019, we are partnering with Livermore Harley-Davidson® Riding Academy to provide an exceptional and memorable learning experience for our students in Livermore.