Frequently Asked Questions

How do I register?
Select a location near you and book a class available.
Can I take the course if I am under 21 years old?
Yes! If you are over 15½ and under 18, you must bring a photo ID and a parent or legal guardian to sign a waiver with you. Your parent must provide ID as well. Once the waiver is signed you are ready to participate.
What are the benefits of taking the course?
You will learn a solid set of skills and techniques needed to operate a motorcycle and progress you to street riding skills. You will also learn about important street strategies and life saving accident avoidance techniques. Additionally, upon successful completion of our course, you will earn a DMV skills test waiver (DL389).
Will my insurance be reduced?
Likely! Many insurance companies recognize the CMSP courses and offer discounts after successful completion of the course. Many companies even offer discounts on your car insurance as well.
What if I have ridden before? Is this course right for me?
Yes! While the basics are covered, our instructors also evaluate the riding of more experienced riders. After many years of teaching we have found that even experienced riders have much to gain from this course.
What is the content of the class?
The basic class is based on many years of motorcycle safety research conducted by Total Control Training. We utilize the most updated motorcycle safety information to provide a professional learning experience.
How long is the basic course?
The course consists of two classroom sessions and two riding sessions for a total of approximately 15 hours. The typical curriculum is: Classroom 1 - Range 1 - Classroom 2 - Range 2
What should I bring to the first day of class?
You must bring:
A current, valid, government issued photo ID. This may be issued from California, any State or any Country
A completed PMT waiver
Proper riding gear for the range session (see the next question)
Water in a reusable bottle and snacks
Pens and notepad
What gear do I need to bring? Are there any provided?
Full-finger, 100% leather or street specific motorcycle gloves
Long sturdy pants with no holes (denim jeans, leather pants, motorcycle specific pants)
Over-the-ankle protective boots
DOT-approved helmet, if you have one (full-face or modular)
Eye Protection
Long sleeve shirt or jacket
PMT provides motorcycles and helmets. You may use your own DOT-approved modular or full face helmet if desired.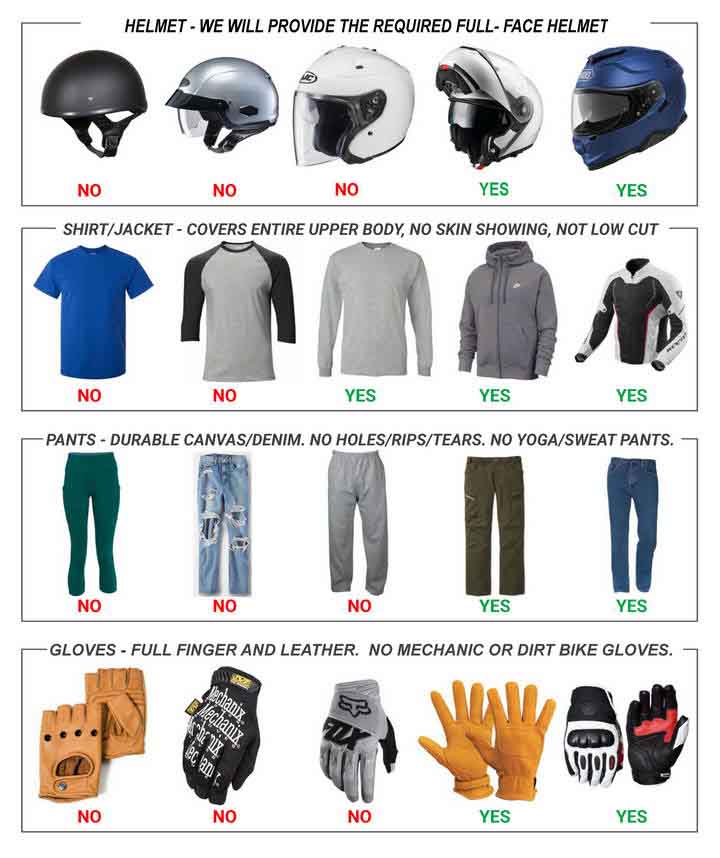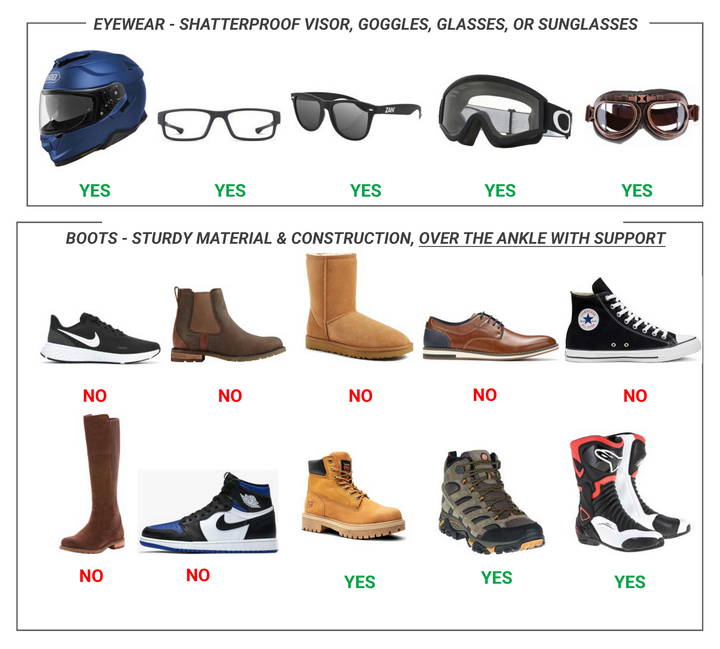 What size are the motorcycles?
The motorcycles provided range from 125cc to 250cc.
Can I bring my own motorcycle?
You may use your own motorcycle in the class, but it must meet two of three criteria set by the state program: 525cc or less, 425 lbs or less, and a seat height of 32" or less. Your motorcycle will be inspected for approval and you must also show proper registration and insurance documents.
Can I take the course on a scooter?
You can use your own scooter in class as long as it meets the same criteria as training motorcycles (525cc or less, 425 lbs or less, and a seat height of 32" or less). Your scooter will be inspected for approval and you must also show proper registration and insurance documents.
Can I learn to ride on a clutch-less motorcycle or scooter?
Yes, we have limited a number clutch-less motorcycles/scooters that you can learn to ride on. Call the office for more information on availability.
How do I graduate from the course?
There are written and riding evaluations to ensure you have competence in the material covered in the basic course. You must attent all sessions in full and pass both evaluations to graduate the course.
How do I get my California motorcycle license (M1) and how long does it take?
After successful completion of the basic course you will be mailed a California DMV form DL389. With this form and the passing of the DMV written evaluation you will be eligible for a M1 motorcycle endorsement. It takes up to 10 business days to receive the DMV waiver in the mail.
What if I'm not able to pass the class?
Sometimes students are unable to pass the class on the first try. If you do not pass the skills evaluation or the writing evaluation, you may schedule a retest. Please call us for details. If you fail both evaluations, you must re-enroll and take the entire course from the start at the full tuition rate.
What is the riding range like?
The riding ranges are generally at the parking lot of the designated location—on a closed course free of traffic.
Will I be ready to ride after passing the course?
When you pass the class you would have been taught the basics of motorcycle operation. We give you the tools, but it is up to you to sharpen the tools and continue practicing to become a safe responsible rider.
When will I receive my DL389 waiver?
Upon successful completion of the class you will be mailed your DMV waiver/Discount Card to the address you used when you registered. You can expect it to arrive within 10 business days.
How do I prepare for class?
Read the student handbook provided in the confirmation email; get sleep the days before class; ride a bicycle; drive a stick shift car; visit a local dealer and locate important controls like: brakes, clutch, throttle steering and start-up procedures.
Is the class offered in languages other than English?
The MTC and EMTC are only offered in English. This includes the eRider software program. You are welcome to bring your own translator to class as long as the translator follows all directions and safety instructions given by the instructors. Obtaining, scheduling and/or any costs related to a translator or translation services is the sole responsibility of the student. Standard refund and reschedule policy rules apply as PMT is NOT responsible for any scheduling conflicts between a student and their translator. Translation providers can also assist students with eRider.
---
eRider Frequently Asked Questions
IMPORTANT: If you are unfamiliar with computers, website browsers or you don't consider yourself "tech savvy", you should sign up for traditional class or, if you are already signed up, contact the office to reschedule to a non-eRider course ASAP. Please review all the eRider FAQs below and the system requirements before you sign up for this program.
What is eRider?
eRider MTC is motorcycle endorsement course for novice riders with four to six hours of online classroom instruction and 10 hours of in-person range (on-cycle) instruction. The course takes place over two days and builds fundamental street-riding skills and strategies. The classroom is done at home on the computer.
What can I expect with an eRider course?
The eRider online classroom is highly interactive, using video and other features to address risk management, riding strategy, roadway management, impairments, and special riding situations like carrying passengers and group riding. Participants complete all classroom activities (6 chapters) before the first riding session and show proof of completion to the instructor. Each chapter takes approximately one hour to complete. eRider is a self-paced learning experience, and we recommend you start eRider approximately one week before your scheduled class begins. Students who have not completed the online classroom may be dismissed from class.
Is eRider for me?
The eRider course is a great option for students who are successful at learning in an individualized, self-paced environment. For students who enjoy independent study without the interaction of a live instructor, then eRider is the right choice for you. Please note which class you are signing up for when you register.
What if I can't get eRider to work?
Almost all issues students encounter with eRider are due to lack of internet connection or using devices and/or software that is not supported. Please be sure your system meets basic system requirements before signing up. After reviewing the system requirements, if you still encounter problems, call us at 925-373-4802, Monday through Friday 9 AM to 5 PM. Do not wait until 5 PM the day before class starts to begin your eRider course as there is no call support after 5 PM.
When should I complete eRider?
It is strongly recommended that you complete all 6 chapters of eRider at least one week before your riding sessions begin so you can get help from the office if you have any trouble. The office is open Mon-Fri from 9am-5pm. If you start eRider late and cannot finish it in time, you will not be allowed into class and will not be refunded and/or rescheduled.
What if I don't complete eRider before my class starts?
You will not be allowed into the class if you have not completed eRider. There are no refunds or reschedules if you are not able to show your grades to the instructors. You will, however, be eligible to come back as a standby student for an additional fee.
When I go to the eRider website, it asks me for payment, but I have already paid and registered.
You do not need to make an additional payment to take eRider. Most likely your eRider account is not yet set up, or you are on the Oregon State eRider website instead of the CMSP eRider website.To set up an eRider account, go to your original email confirmation letter where you will find your personal eRider link. Use that link to create your eRider account.
If you have already used the link in your confirmation email to set up an account, then you might be on the wrong website. Be sure to log into California Motorcycle Safety Program's Total Control eRider website, and not TeamOregon's eRider website.
Can I get my motorcycle license by taking the eRider course?
After successful completion of the eRider course you will be mailed a California DMV form DL389. With this form and the passing of the DMV written evaluation you will be eligible for a M1 motorcycle endorsement. To receive a DL389 you must complete all classroom activities (6 chapters) and on-cycle riding sessions, pass the online quizzes and pass an on-cycle skill test.
What are the system requirements for eRider?
eRider students must use a computer that meets basic system requirements.
The online classroom requires a modern desktop, laptop or tablet computer; a current operating system and Web browser; high-speed Internet; and headphones, earphones or speakers. Smart phones are not recommended – they navigate poorly and do not provide adequate detail for graded activities.
eRider is not compatible with the Safari browser (we recommend Google Chrome).