Join PMT's Learning Odyssey at WeatherTech Raceway Laguna Seca 2021!
Pacific Motorcycle Training
We are offering a unique opportunity to learn to ride — or improve your riding — at one of the most celebrated motorcycling venues in the world, WeatherTech Raceway Laguna Seca! This is a once-in-a-lifetime opportunity to bask yourself in an amazing motorcycling experience, right between two legendary race weekends — MotoAmerica Superbike SpeedFest and AHRMA Monterey Classic MotoFest in July 2021.
We will be holding basic, intermediate and advanced classes in a safe and relaxed environment, at the paved lakebed area of the venue. The Schedule for this special event is as follows:
July 13 & 14
Basic (Licensing) Riding Course
Price: $350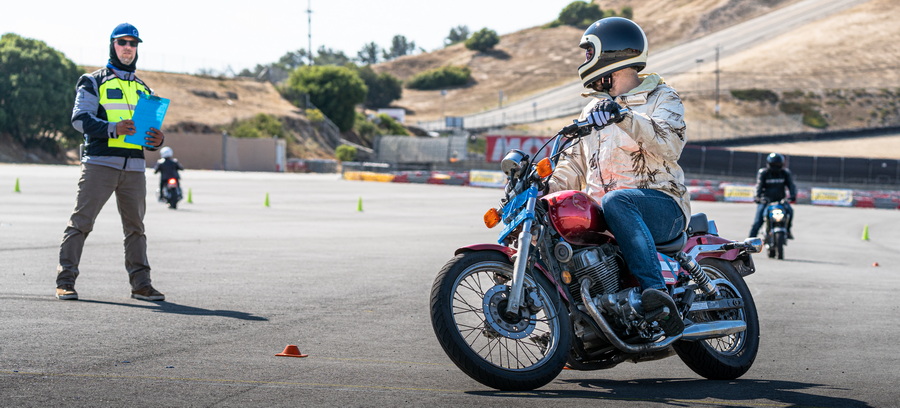 The CMSP Motorcyclist Training Course (MTC) is designed for the novice rider with no (or limited) street-riding experience. The MTC is a two-day course that consists of 5 hours of classroom instruction and 10 hours of riding practice. During this motorcycle riding course, you will learn fundamental skills required to operate the motorcycle and progress to street riding skills and strategies. Even though the Motorcycle Training Course was designed with new riders in mind, most experienced riders that have taken the course have reported improving their riding skills considerably with it!
Upon successful completion of the Motorcyclist Training Course you will receive a DMV riding test waiver. There are written and riding evaluations after the course to ensure you have competence in the material covered in the basic course. You must pass both evaluations to graduate. Motorcycles and helmets are provided to all our students for the riding practice portion of the course.
LEARN MORE ABOUT THE MTC
July 14
Total Control Intermediate Riding Clinic
Price: $425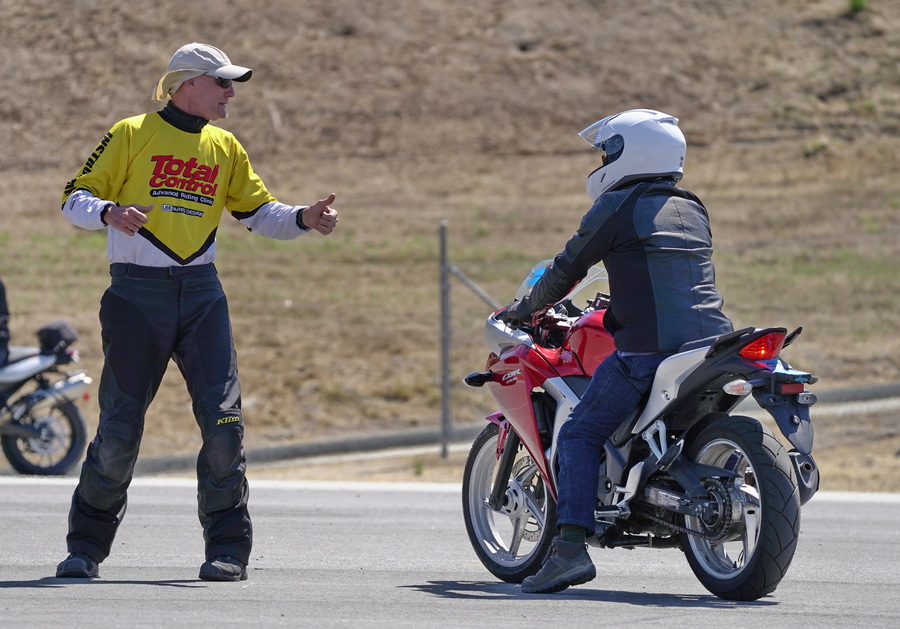 Developed by Total Control Training, the Intermediate Riding Clinic is the perfect next step for newer riders who are looking to improve their skills as well as riders that have recently returned to riding after years off. This course includes both classroom and on-cycle instruction.
The IRC is based on the most current research in rider safety, utilizes modern training methods and has been proven to enhance student outcomes. Although designed primarily as a safety course, the course is also challenging and fun and it is completed in one 8-hour day. Riders who complete the Intermediate Riding Clinic will receive a commemorative T-shirt and will have the opportunity to ride a Victory Lap around the racetrack!
LEARN MORE ABOUT THE IRC
July 15
Total Control Advanced Riding Clinic
Price: $475
Whether you want to become a more proficient and safer rider on the street—or a faster rider on the track—mastering advanced riding techniques is crucial and should not be postponed until it is too late. Unfortunately, most advanced riding courses in the country are only offered in high-speed racetrack environments. The fear of crashing at high speeds and the pressure of other riders flying by are too intimidating to most motorcyclists so they never take this important step forward.
During our Advanced Riding Clinics, every drill is performed one at a time, and at street-legal speeds, in a controlled environment. After each run, you will receive professional, concise coaching on the specific skills you need to work on to transform your riding. From cruisers to sportbikes, all types of motorcycles and riding styles are welcome to attend. Riders who complete the Advanced Riding Clinic will receive a commemorative T-shirt and will have the opportunity to ride a Victory Lap around the racetrack!
LEARN MORE ABOUT THE ARC
Because this is a special event, registrations for each class are only being taken via phone or through our Special Registration Page. Please fill out the form or call us at (925) 373-4802 during business ours and reserve your spot today!